Famous Apprentices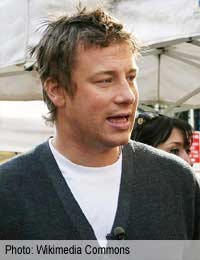 You may think of apprenticeships as a modern invention but they have actually been around in different forms for many years. People have always appreciated the possibility of being able to train on the job while working towards a practical qualification.
To be successful you do not necessarily need a university degree but determination, hard work and commitment. If you are in doubt about whether an apprenticeship is a good idea then take some inspiration from these famous apprentices and everything they have gone on to achieve.
Jamie Oliver
Jamie Oliver may be one of the country's most famous chefs but did you know that he started his career as an apprentice? Growing up in his Dad's pub he knew that he wanted to work in food and after going to catering college, started his apprenticeship, learning hard in the kitchens. He trained under some great chefs and soon went on to write cookbooks, have his own TV shows and open his own restaurants. Jamie now offers numerous catering apprenticeships to young people through his restaurant Fifteen.
Ruth Badger
Ruth Badger is best known for being runner up in the second series of The Apprentice and going on to become a successful businesswoman. However, most people don't realise that she was actually a real life apprentice when she left school. She says that she was never great academically and that the apprenticeship she took in business administration when she was 16 put her on track for a successful career. Now running her own business, Ruth says she plans to take on her own apprentices to give another generation the same chance.
John Frieda
You've probably bought some of his hair products or at least seen him doing his magic on TV. The celebrity hairdresser John Frieda started of his hugely successful career as an apprentice. John's father was also a hairdresser and when John left school he started training in the salon. Through hard work, talent and a few lucky breaks, John Frieda has worked his way up to cut the hair of some of the country's hottest stars.
Alexander McQueen
This famous fashion designer left school at sixteen and started an apprenticeship with a top Saville row tailor. He worked for some of the top names in fashion before furthering his education at Central St Martin's school of Art and Design. After graduating his career went from strength to strength and he was one of youngest people ever to win the title British Designer of the Year.
It's always interesting to learn who started out on the same path as you and where it took them and if they can do it then so can you. Taking an apprenticeship is only the beginning of your career and the possibilities afterwards are endless. Use your time to learn as much as you can and channel it into your future. Aim high and with a little bit of hard work, focus and determination you might one day be on the list of famous apprentices.
You might also like...