What is Minimum Age for Building Site Apprenticeship?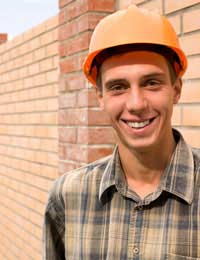 Q.
What is the minimum age for an apprentice to work on a building site?
(J.B, 18 February 2009)

A.
There are 180 different types of apprenticeships available in over 80 industries, with construction being one of the most popular. It is a great way to gain practical, hands-on skills while also gaining a qualification and getting paid for it. This is the reason why apprenticeships are becoming so popular as they set you up well for a career in your chosen industry.
Within the construction industry there are many different roles that you can take on as an apprentice from bricklaying and crane operation to civil engineering and technical support. Which one suits you will depend on your qualifications and the level of NVQ you want to study for.
Whichever apprenticeship you choose though, as long as you are 16 or older, there are no restrictions about working on building sites or elsewhere.
There is also a scheme that is run for young apprentices. This applies to 14-16 year olds who want to do work experience in the industry or study towards a qualification. Young apprentices are able to gain a diploma for 10 days' work or spend longer in work based training and work towards a NVQ qualification.
The rules on the these apprenticeships are more restricted and because of health and safety reasons, young apprentices will not be able to work on a building site.
If you are under 16 and want to be a construction apprentice though, there is still a lot you can do to work towards your goal. There are other areas of construction that you can become involved with such as plastering or plumbing, which will give you some great skills to work on.
Also, concentrate on attaining your GCSEs so that you have a sound base to move on to studying for your NVQ when you can start your apprenticeship. Also, some of the more technical apprenticeships will require passes in Maths, English and Science, so pay particular attention to these subjects.
Talk to your teacher or career advisor about construction apprenticeships and what options are available to you. Then, once you hit 16, you can get stuck in to your new career.
You might also like...
let's start off with the fact that i'm 16, female, for my whole life i wanted to be a mid wife & im currently in college studying. however one of my friends aged 20 did an construction apprenticeship or something now they have changed sites & is doing more work. i did my research. i really want to do brick laying but apparently the best way to apply is to go up to w work & ask about the job which is fine but that's hard especially not living near any construction sites.
missy
- 22-Nov-23 @ 11:38 AM
My son aged 16 and 10 months advised to practice on a construction site to be an engineer who will be studying in boarding school from September he can practice, I don't know, I'm a foreigner, I don't understand English law for minors
Mira
- 18-Aug-22 @ 10:46 PM
hi i am 15 years old and i want to be a builder. can i apply for an apprenticeship for building at age 15 please. thanks.
sam kandrac
- 15-May-21 @ 1:39 PM
My granddaughter started an apprenticeship at 16 in hairdressing she signed a contract aged just 17 but her parents didn't counter sign. She fully qualified 2014. Her employer said he needed to give her a new contract presumably because she was no longer an apprentice, but he never got around to doing it. The original contract had restricted conditions that she could not work within a 3 mile distance and 1 year. At the time I felt this was excessive for a naïve young girl who was advised to sign the contact by her training tutor she had to go to 1 day a week throughout her apprenticeship term. My granddaughter has resigned and worried that her new place of work is less than the 3 miles away under the restriction of the original contract. She has not told her clients of her leaving or taken any phone numbers. Where does she stand?
susyQ
- 1-May-16 @ 11:14 PM