Develop Your 'Soft Skills' as an Apprentice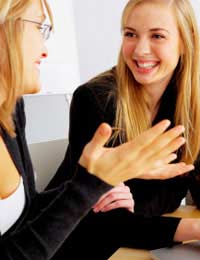 There is a lot of talk nowadays about 'soft skills'. These are the personality traits and interpersonal skills that employers look for as well as technical ability and experience.
As an apprentice your development of these skills will be encouraged alongside your regular training and study. The development of these skills is about learning through practice and working out which areas you could improve on.
Communication
Communication is a very important interpersonal skill to have. Whether it is in work or your personal life, you are constantly communicating with people. Development will focus both on your ability to communicate with your colleagues and superiors as well as with clients.
You will need to learn to communicate well both orally and through writing so that you can get your message across clearly and concisely. Learning to use appropriate language and grammar are part of this but so is being able to present yourself well and react to others appropriately.
Teamwork
Working as a team is key to the success of any company and something that you will need to learn. If you are not used to it, it can be difficult to cope with people with different personality traits who you may clash with in the outside world. Teamwork development will come as you work on different projects and learn the best ways to negotiate and liaise with others.
Time Management
Lots of people struggle with time management but when you are under pressure to get something done you will be happy to have developed this skill. It doesn't only refer to the basics such as getting to work or a meeting on time, but also to how you manage your workload.
You may attend training that will give you the tools to help you manage your time more effectively. Then your personal development will be down to you and how successfully you implement the skills that you have been given.
Pro-Activity
Being proactive is a personality trait that some people are born with while others have to work on its development. It is the difference between being the person who is always being told what to do or being the person that goes out there and figures it out for themselves.
It is a skill that is valued amongst employers as it makes companies more productive. Try taking it slowly and focusing on one element of your work that you can be proactive in or trying to think of one new idea a week. Make sure that your efforts are noticed by telling your boss about your plans.
Developing soft skills is now seen as just as important as learning the technical and practical side of a job. Interpersonal skills play a big part in how smoothly and business is run and how well staff can work together. Communication and teamwork are both very important so that people are working together and understand what is going on.
Some personality traits such as time management and pro-activity will come naturally but many people will have to focus on their development. All soft skills can be improved by time and commitment and you should think about how you can incorporate them into your training and study.
You might also like...