Hotel Management Apprentice: A Typical Day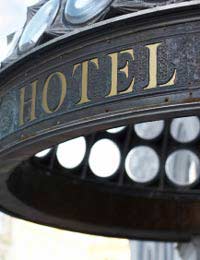 Mark is 17 and taking an apprenticeship in hotel management. He says that he looks forward to his day at work and shares a typical one with us.
7:30am
I get out of bed bright and early so that I have time to relax a little bit before I drive to work. I could never drag myself out of bed when I was last school but now I actually look forward to the day ahead.
9:15am
My working day doesn't actually start until 9:00am but I like to get in a little bit earlier. This means that I am always on time and shows that I am committed to my apprenticeship. It also gives me a chance to get a cup of tea and organise myself before the day starts.
10am
I have a meeting with my manager to discuss my training programme today. We meet regularly to assess my progress and adapt my training plan accordingly. This is really useful as I don't feel like I am wasting my time and it is good to hear feedback about how I am doing.
10:30am
As well as my training I have my own role and responsibilities. This morning I am in charge of reception. Being on reception is great for building my communication skills but also for understanding how the organisation runs as a whole. It is interesting to meet all the different people that call up or come in. You have to be very organised so that the calls go through to the right people and all the messages are taken.
1pm
It's time for my lunch break! This is a good opportunity to get to know my colleagues and learn from their experiences. Everyone has been very friendly and keen to pass on all their advice.
2pm
This afternoon I am sitting in with one of the HR managers to learn about how the staff is managed. It's something you don't really think about but it is quite complicated. She gives me some work to do and it is great to have the practical experience rather than just being told about it. By the time I finish my apprenticeship I will have a great grounding in all the different areas of hotel management
7pm
This evening I am going to college. I go one evening and one afternoon a week to work towards my NVQ. I find that the college work really complements what I am doing at work and I get a lot out of it. Today we are working in teams to put together a proposal so I get to hear everyone else's ideas too.
9pm
I am off for a quick drink with the people on my NVQ course. l really enjoy meeting other apprentices and finding out what life is like for them. I have made some great friends and we can all help each other out along the way.
11.30pm
I am tucked up in bed ready for another day at work. Rather than dreading it I am looking forward to what tomorrow brings and working on my skills so that I can have a great career ahead of me.
You might also like...
@Smith - I have included a gov.uk link
here
on how to apply for an apprenticeship in hospitality management. I hope this helps and good luck.
AnApprenticeship
- 18-Feb-15 @ 2:03 PM
I would also like to know more info about this apprenticeship and how to find one? Thanks.
Smith
- 16-Feb-15 @ 10:02 PM
Was just wondering about the hotel management apprenticeship would really appreciate if you could send me some information about it? Thank you.
none
- 2-Nov-11 @ 8:38 PM