Quiz: Is an Apprenticeship For You?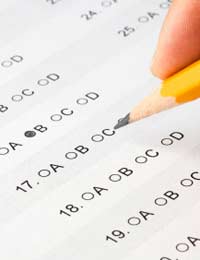 With so many different training and career options available it can be a bit confusing to try and decide which right for you. You may decide to stay on at school or college to gain a further qualification or perhaps you would prefer to get stuck into the world of work.
The great thing about an apprenticeship is that it lets you do both. It allows you to earn money and get hands-on experience in your chosen industry as well as being given training and gaining a qualification. However, it may not be the right choice for you so take our quiz to find out:
Did you enjoy learning when you were at school?
a) Yes, I was always keen to learn more things
b) I liked some of it, especially the more practical subjects
c) No, I really wasn't interested
What was your favourite subject?
a) History or English – anything that required a lot of reading
b) Woodwork or Art – I like practical and creative subjects
c) Home time!
Have you had a job before?
a) No, I haven't had time while I've been studying
b) Yes, part time, I like having some of my own money
c) I've been working ever since I can remember
What would be your dream career?
a) Scientist - something to work my brain
b) Business owner – I want to work my way up during my career
c) Shop assistant – it's easy and doesn't need much thinking about
Are you good at sticking to things?
a) Yes, if I am learning something from it
b) Yes, if it is something that interests me
c) No, not really
Where do you see yourself in 10 years time?
a) In a managerial position, working on my career
b) Balancing work and family
c) Pretty much the same as I am now
How much money do you expect to earn?
a) Over £40,000 – I'll need it to pay off my student debts
b) £20,000 - £40,000 – I want a nice life
c) Under £20,000 – You have to work hard to earn more than that
Mostly As
You enjoy learning and find academic study quite easy. You are focused on being the best you can and aiming for a high flying career. You would be better suited to further education or university so that you can develop these interests and skills and gain a lot of qualifications.
Mostly Bs
You only stick at things if they are interesting and practical. You like being self sufficient but want your career to go somewhere. An apprenticeship would be an ideal choice for you as you get the practical experience but also a qualification that will help you further your career.
Mostly Cs
You never really enjoy school and would much rather be out in the real world. Learning isn't really your thing and you don't have much sticking power. An apprenticeship needs commitment and there is some academic work. Getting a job would be more suited to you.
You might also like...
Hi, I would like to do an apprenticeship in mechanics during my school holidays, is this possible? My date of birth is: 10/08/2021. I am still at school studying for my GCSE's. I live in Tunbridge Wells. I am happy to do apprenticeship training during the school holidays and also saturdays. Please let me know if there is any possibility? Kind regards, Nikolas Hardwick
Nikolas
- 1-Oct-21 @ 10:01 AM
Tyler- Your Question:
I'm a female looking for what apprenticeship I should go in to but don't know where to start or what I should I hope you can help.
---
Our Response:
You may like to try this quiz also, which is more orientated to specific professions
here
. I hope this helps.
AnApprenticeship
- 8-Dec-15 @ 2:41 PM
I'm a female looking for what apprenticeship I should go in to but don't know where to start or what I should I hope you can help.
Tyler
- 7-Dec-15 @ 9:14 PM