How You Will Be Assessed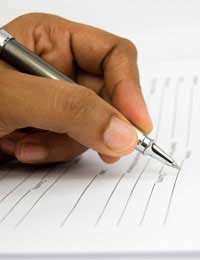 Apprenticeships have no fixed length or assessment period and are designed so that each individual apprentice can work at their own pace. This makes apprenticeship schemes accessible to a wide range of people who may have different strengths and abilities.
During an apprenticeship you will have a number of specific skills and experience that you must get marked off by your employer or college tutor to prove that you reached a certain level of understanding.
Taking Your Time
The good thing about apprenticeships is that there is no formal time frame that you must complete your assessment in. This gives you the flexibility to work at your own pace and spend longer on the areas that you find more difficult.
Obviously you will be expected to show that you are progressing and learning but don't be afraid to take your time to make sure you have developed the skills needed to successfully complete your apprenticeship job.
NVQ Assessment
The main qualification that you will be working towards during your apprenticeship scheme is an NVQ. The practical experience will be gained through your job but you will also need to attend college and complete some written work.
The amount of college time and study will depend on the subject and how good you are at this aspect of your apprenticeship. Assessment will be made by your tutor on a number of assignments and they mark a record of your progress until you have completed all the requirements.
Key Skills Assessment
As part of your apprenticeship you will be expected to work on areas of your key skills. Key skills are things such as team work and communication which are very important to any job role.
As you grow in these different areas, your supervisor will mark off your assessment form to show that you have achieved a certain level of skill. You may find some skills easier than others but these will get better as you get more used to the apprenticeship job, interacting with your colleagues and dealing with the workload.
On The Job Assessment
As well as being assessed for your NVQ qualification and your key skills you will also be judged on how well you handle your apprenticeship job. This on the job assessment will look at your practical day to day application. Work with your manager to improve the areas that you are weak on and seek extra training if you need it.
On an apprenticeship scheme you are treated as an employee so will have to meet certain standards but can take your time to reach the level of assessment needed to complete the programme.
The assessment of your apprenticeship is an ongoing process and you will mark of different areas as you reach the level required. Take your time as there is no set limit and you may be better in some areas quicker than others.
As well as on the job assessment you will have to meet criteria for your NVQ and key skills. Work with your employer and your tutors to reach these targets at your own pace.
You might also like...
My son is in the last month of his 4 year apprenticeship. He has completed the NVQ all he needs to do is 2 practical assessments and his apprenticeship will be complete, the company are now saying there is no prospect of completing the advanced apprenticeship before the end of his contract, he has been asking for these assessments to be performed for approx 10 month. We are very unsure of his position, there have been a number of meetings previously with the union representing him.The conduct of the firm has been bullying and intimidating for a number of years. We do not know where to turn for support, and advise. Anyone with any suggestions?
amp
- 13-Aug-12 @ 9:30 PM