Is an Apprenticeship For You?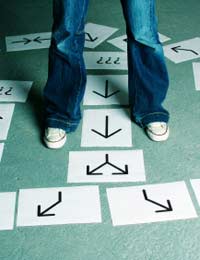 There are a lot of factors to consider when deciding whether doing an apprenticeship is the right decision for you. You should never feel pressured into doing anything as if it is not what you want, you won't get the most out of it.
Firstly, consider what other options are available to you. Could you continue or go back to studying? Would you be more suited to getting a regular job? Are there in-house training schemes that might suit your skills or attributes better?
Apprenticeships are unique because they offer study, on the job training and a pay packet but be sure it is right for you before starting.
Skills & Talents
To make the most of an apprenticeship you need to find one that suits your skills and talents. Whether you are creative, practical or caring, there are hundreds of different apprenticeships available over a wide range of industries, so do your research.
If there is not a suitable scheme available in your area you could consider approaching an employer and asking whether they would be interested in setting one up. There is not point taking an apprenticeship just for the sake of it, you need to find one that you can commit to and be inspired by.
Study & Qualifications
As an apprentice you will go to work and be treated like an employee. You will be taught skills on the job and learn through practice. However, you mustn't forget that you will also be required to go to college and study towards a qualification. Try not to think about it the same as school as you will be able to see the practical application of what you are learning.
However, if you a really don't think you can commit to studying then an apprenticeship may not be for you. You will have to put time and effort into coursework alongside your job and if you are not willing to do this, you won't gain your NVQ qualification.
On The Job Training
The draw of an apprenticeship, for most people, is that you get to go out into the world of work whist still training. This means that you get paid and given holiday while being taught new skills. If you are someone who does not respond well to structured training or cannot commit to a professional environment then an apprenticeship may not suit you. You will be expected to represent your company in a good light, always turn up for work and put effort into your training.
Alternatives to Apprenticeships
When deciding whether an apprenticeship is right for you, it is worth considering what other options are available. Is there a course available that could teach you the same skills in a classroom? Could you just go out and get a regular job? Are there companies in your area that offer their own training schemes? Way up the pros and cons of each option and decide whether the combination of study and on the job training is what you are looking for.
Is an apprenticeship right for you? Only you can decide. Consider your other options and whether you are able to put the time and effort into an apprenticeship to get the most out of it.
You might also like...