Employer Quiz: Would an Apprentice Benefit Your Company?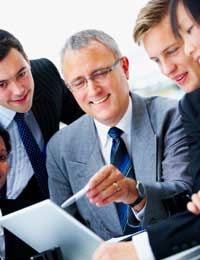 As an employer you may have some reservations about taking on an apprentice. They can be a great addition to your company by helping to increase skills, being a motivation tool for other staff and increasing the productivity of your workforce. However, you need to be comfortable with the idea and sure that it is a good idea so take our quiz to find out if the option is right for your business.
Do you have any skills shortages in your company?
a) Yes, we have some areas that need filling
b) No, our workforce is well-skilled
c) There are a few areas that could be improved
How motivated are your staff?
a) Not very motivated at all
b) They are all very well motivated
c) It varies
Could your company's productivity be improved?
a) Yes, we need to work on our productivity
b) No, I think we are as productive as we can be
c) There is always room for improvement
Are you willing to put together a training plan for your apprentice?
a) Yes, whatever it takes
b) No, that's not something I want to be bothered with
c) As long as I have some help I could probably do it
How flexible can you be to accommodate an apprentice?
a) We are a flexible company and willing to adapt
b) I don't have the time to be flexible
c) I think we could probably work around their needs
Are you willing to assess their progress?
a) I would be happy to assess them as they learn new skills
b) That's not something I would be interested in
c) If someone explained how to do it, I'm sure I could
Mostly As
It sounds like an apprentice would be a great addition to your company. An apprentice can help you improve your productivity, motivate your staff and fill skills shortages. As you are willing to be flexible and create a good training plan you would be a good employer.
Mostly Bs
Your company would not the right place for an apprentice. It seems that you do not feel the need to increase you productivity or motivate your staff. Also, you must be willing to commit to your apprentice and help them with their training.
Mostly Cs
There is definitely potential for an apprentice in your company. They could bring new skills into the workplace and with the guidance and support on offer you would be able to give them the training and support that they need.
There is plenty of help available for any company that is interested in taking on an apprentice. As well as offering them a great opportunity, offering an apprenticeship can be of great benefit to your business. Take the time to find out what funding and help you could be entitled to and how an apprentice would fit into your business. A good start can be to talk to other companies who have employed apprentices to find out what the day to day reality is like and how they found it.
You might also like...