Your Commitment to Your Apprentice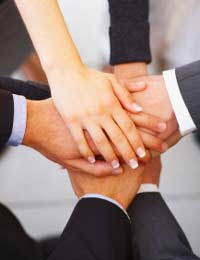 When you take on an apprentice they are keen and enthusiastic to start their career and learn about the industry through a job with you.
As an employer you have a commitment to offer them the best apprenticeship that you can. You need to be committed to putting together a good training plan and teaching them the tools of the trade.
Equally, they are an employee and you should treat them as such without trying to take advantage of them or pay them poorly. As well as this you have a commitment to be flexible, help them fit in their college work and adapt as they progress in your company.
Training
Training is a key part of any apprenticeship and the reason why your apprentice has chosen this route over any other. They are keen to learn on the job and practically apply the skills that they are picking up.
As an employer you have a commitment to provide your apprentice with the best training that you can. This should be comprehensive, tie in well with their job role, complement what they are learning at college and guide them through the skills they need for the industry.
Wages and Holidays
When you take on an apprentice you are essentially taking on a new employee and they have the same rights as any other member of staff. This means they are entitled to standard holidays and rest breaks and you should not try to take these away. While they will have less skills and experience, you have a commitment to offer them a fair wage that is in line with industry standards for an entry level position.
Flexibility
Taking on an apprentice is different to a regular member of staff and you will need to be more flexible. Another key part of their apprenticeship will be gaining an NVQ qualification which they will study at college for. You have a commitment to helping them achieve this by agreeing to time off to attend classes or complete coursework, within reasonable limits.
Progression
As your apprentice gains more experience and picks up more skills you will need to flexible about their progress. It may be that their training plan needs adjusting to suit them or that they have become a big asset to your company and deserve more money. Either way, be prepared to reconsider their role and position as they progress. The more adaptable you can be with your apprentice the more your company will gain from having them around.
As an employer you have a commitment to offer your apprentice a well structured, fair and flexible apprenticeship that will set them well up for life in the industry. You should put a strong training plan in place and be willing to adapt this as they progress.
You should give them a fair wage and consider increasing this as they gain experience. You should also be flexible enough to accommodate their college work and think about how you can practically implement the skills they are learning.
You might also like...
Hi can I change employer once ive started my apprenticeship. Ive just started my 2nd year