What an Apprentice Can Offer Your Company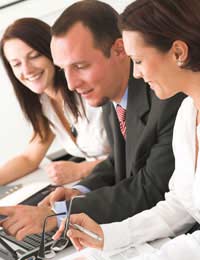 For an apprentice there are lots of incentives to do an apprenticeship – training, work experience, wages and qualifications. However, there are equally as many advantages to the company that takes them on.
Apprentices can bring new skills and enthusiasm to your business and in turn motivate the rest of your staff. They can help fill skills shortages and be trained up to fill the roles that are needed, eventually becoming an integral part of your business.
Fill Skills Shortages
Whether more experienced members or staff are leaving or you are just struggling to find the right candidates, every business can suffer from skills shortages. By choosing to run an apprenticeship, employers can plug the gaps that need filling and choose to train apprentices in the fields that they most need. By filling skills shortages this way, a company has the chance to mould the apprentice and teach them about the industry and job first hand.
Increased Productivity
When your company is lacking certain skills or is short on staff then the whole productivity of the business suffers. By bringing in a keen apprentice who will work hard and be trained on the job, you can increase productivity.
The effect will no only be seen directly by the apprentice's work but by the knock on effect it has on other staff members, teams and the departments. New skills will be learnt by your apprentice's colleagues and they will want to stay ahead of the game with new blood in the building.
More Motivation
It is easy for staff to become stagnant and de-motivated when they have been at a company for a long time or the team has not evolved. Bringing in an apprentice can inject some enthusiasm and energy into your company.
This will rub off on the rest of you staff giving them more motivation and making them better employees. Changing the dynamics in a workplace can help to make people think differently and look at problems in a new light.
Leaders of Tomorrow
Apprentices are keen to learn about their chosen industry and progress within their job role. Taking on an employee at this stage of their training means you can have a positive influence on their progress.
If you offer a good apprenticeship and manage to forge a good relationship with your apprentice then they may be keen to stay with the company. Having people who have a lot of experience in your company makes them great manager material and you could be training the leaders of tomorrow.
Offering an apprenticeship can be a great step for your company. It offers you the chance to fill areas of skills shortages with enthusiastic apprentices who can learn on the job. You can train them the way you want and new blood will help motivate your other employees and help give them a bit of a boost.
Introducing new skills will also help improve the productivity of your business by rubbing off on others and freeing up other staff. Also, if you can retain them, you may be finding your managers of tomorrow who know your business inside out.
You might also like...