What is an Apprenticeship?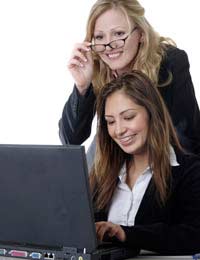 Apprenticeships have been around for many years and have always involved somebody being taken on to learn a trade. Now, they had a bit of a makeover and the modern version is more structured and allows apprentices to study and gain a qualification at the same time as working.
Apprenticeship schemes are available in hundreds of different industries and roles so that there is a placement out there to suit anyone who is interested.
Who Can Become an Apprentice?
Anybody who is not in full time education can become an apprentice. Although most apprentices tend to be young and straight out of school this is not a requirement. In fact, many companies would be keen to take on somebody older. Apprentices need to enthusiastic and willing to learn. They need to be committed to the training and their new company so that everybody can benefit.
What Do Apprenticeship Schemes Involve?
An apprenticeship appeals to most people because of the chance to start working and earning money while still gaining a qualification. An apprentice will join a company like a regular employee and will be expected to work hard and learn on the job. At the same time they will attend college and study courses that will complement their employment and lead to a qualification.
What Training and Qualifications are Provided?
Your employer will have worked with an adviser to make sure that you are on a structured training programme that will help you develop your skills. These skills may will be practical and industry related as well as developing other areas such as teamwork and communication, At the same time you will study for an NVQ 2 or 3 that relates to your area of work.
What are the Wages and Benefits?
Apprentices are paid a salary and given holidays just like any other employee. The least an apprentice can work is £80 per week but it is often more and may grow as your prove your skills. Apprentices may also be able to claim other funding and benefits to supplement their wages.
How Can I Apply for an Apprenticeship?
Talk to your local jobcentre or college who will be able to tell you about apprenticeship schemes available in your local area. You could also approach employers directly if you know that they offer apprenticeships or talk to your current employer about developing a scheme.
How Can I Offer Apprenticeship Schemes in my Company?
Companies who wish to offer apprenticeship schemes should contact their local jobcentre to find out more information about putting together a training programme. There is a lot of advice and help out there to help you take on an apprentice.
Apprenticeships help bridge the gap between work and study and are beneficial both to the company and the apprentice. The apprentice gets to work and earn a salary while also training and gaining a qualification. Meanwhile, the company has a enthusiastic employee who they can train from the start for whatever their needs are. Apprenticeships are a practical way for people to gain knowledge of an industry and increase their skills without being confined to full time education.
You might also like...