Apprenticeship or Internship: Which is Right for Me?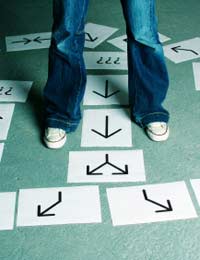 Beginning an apprenticeship or an internship is a big commitment, and it is important that you understand exactly what you are letting yourself in for before you begin.
There remains some confusion regarding the nature of both apprenticeships and internships. They each have their own distinct characteristics, and each is suitable in different circumstances.
What is an Apprenticeship?
An apprenticeship is a form of on-the-job training. It provides you with the opportunity to learn the ins and outs of a job while actually doing it. At the same time, you will study towards a formal qualification like an NVQ or a Foundation Degree.
Apprenticeships can be a very effective route into employment. Many apprentices remain with the same employer after having finished their course. Perhaps just as importantly, while you carry out your apprenticeship you will also be paid. Depending on your circumstances you will be entitled to be paid at least either the National Minimum Wage or the apprentice rate of £3.70 an hour (2018).
What is an Internship?
An internship is also a kind of on-the-job training. While apprenticeships are usually considered to be the preserve of 'vocational' industries, internships tend to be more common amongst office-based or other similar jobs.
Internships are not necessarily paid. Some are paid; this is particularly common in a small number of industries including medicine and law. In others, the intern will be paid travel or food expenses. Most commonly, though, the intern will receive no remuneration at all. Internships are sometimes carried out in exchange for 'course credit' at college or university.
There is no guarantee of a job at the end of an internship. Indeed, many internship programmes come in for criticism for taking people on for a few weeks, giving them menial tasks to complete, and then refusing to even offer them an interview. That said, there are many firms that run reputable internships schemes that can be of benefit to the individual.
Are Internships Legal?
In theory, yes. But many thousands of businesses across the country run internship schemes that fall foul of the law. If you have things like set hours during which you must attend the place of work, or if you have a set schedule of work, then you are likely to be classed as an employee. This means that you must be paid at least the National Minimum Wage. Failure to pay interns in this way will almost certainly mean that the scheme is being operated illegally.
So What are the Main Differences?
There is a series of significant differences between internships and apprenticeships. Perhaps the most important is their availability. Internships tend to be more readily available in 'white-collar' jobs, while apprenticeships are favoured in 'blue-collar' industries.
Apprentices are also guaranteed payment during their training. They will learn valuable skills that will help them to complete their job, and that will stand them in good stead for their career. Interns, meanwhile, have little or no guarantee that the work they will be asked to do is actually relevant to their career or their interests. Furthermore, interns may well not be paid for their work.
It is also important to remember that apprentices study for formal qualifications. They will normally work towards a knowledge-based qualification and a work-based qualification. This is very rare amongst interns.
So Which is for Me?
This very much depends on your individual circumstances. If you are looking for a route into a specific industry, and you know that you want to stay in that industry, then an apprenticeship might well be the right choice. On the other hand, if you want to increase your chances of getting a job, or if you are trying out a few different possibilities, then an internship is probably best. Apprenticeships tend to be most suitable for those who have a fixed idea of the industry in which they want to be.
You might also like...