Can I Do a Degree After My Apprenticeship?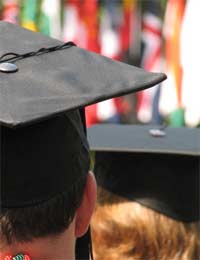 For many people, an apprenticeship is the first step in a career that will last a lifetime. This form of training is a hugely useful way of getting your foot on the employment ladder, and many apprentices remain with the company in which they trained for many years.
Others, however, choose not to stay on when they finish their apprenticeship. You should remember that you are not necessarily closing doors by carrying out this training. Instead, if you wish to go back into education afterwards, there is nothing stopping you doing so.
Will I get a Qualification with my Apprenticeship?
Yes. One of the most important characteristics of an apprenticeship is that, as well as receiving valuable on-the-job training, you will also work towards one or more formal knowledge-based qualification.
The qualification for which you study will depend on the level at which you are completing your apprenticeship. So, if you are doing an apprenticeship at Intermediate of Advanced level, you will study for an NVQ or an equivalent qualification. You might also study for a BTEC or equivalent. At Higher level, you might work towards a Foundation Degree.
So I Can go to University Afterwards?
Absolutely. If, after completing your apprenticeship, you decide that you want to go back into formal education, there is nothing stopping you starting a degree. Alternatively, you might choose to pursue another professional qualification – or enter further or higher education doing something other than a degree.
In fact, an apprenticeship can stand you in very good stead for your university career. The qualifications that you receive as a result of your apprenticeship are often looked on favourably by admissions tutors, meaning that you can improve your chances of being accepted onto a course. Furthermore, if you pursue a degree in a field related to that in which you did your apprenticeship, you might well find that the skills you have learned help you to complete your degree more efficiently.
Won't I Have a Job at the End of it?
This is a common misconception. There is generally no guarantee of a job at the end of your apprenticeship. The only exception to this is when your apprentice agreement explicitly says that the employer will provide you with work – but this is very rare.
It is certainly true that many employers choose to keep their apprentices once their training is complete. Apprenticeships are a very cost-effective way for employers to build workforces with the specific skill sets that they require. But you need to remember that circumstances can change, and your employer might not, for example, be able to afford to keep you on when your training is complete. You should therefore not presume that you will have work at the end of your apprenticeship.
Of course, that is not to say that you wouldn't be able to find a job with another business in the event that your original employer was unable or unwilling to take you on. Apprenticeships are seen as very valuable assets, and you may well find that you have an advantage in job applications if you have successfully completed one. In this difficult economic climate, though, you should remember that many firms simply do not have the money to take anyone on, apprenticeship or not. You may therefore want to develop a 'plan b' in the event that you can't find work.
Can I Get a Student Loan?
Many people are put off going back to university because of the cost. It is certainly true that it can be more difficult for mature students, or those returning to education, to bear the cost of university. This is often because these individuals already have bills to pay or, perhaps, families to support.
There are certain criteria that you must fulfil in order to be eligible for a Tuition Fee Loan. Perhaps most importantly, the loan is normally only available to those who are studying for their first higher education qualification. It is normally possible, however, to get a loan if you are 'topping up' a Foundation Degree to a full degree – and this is particularly important for those who have completed an apprenticeship at Advanced Level.
Student finance can be confusing. If you are in any doubt about what you are eligible for, contact UCAS directly.
You might also like...
Sir,madam I mouti subba of sikkim (2nd smallest state), I have complit my apprenticeship in draughtsman civilnow I want further study can I gate b.tech to study
mouti
- 29-Apr-17 @ 3:44 AM
hello I just wanted to ask can I still get a full degree if I do an apprenticeship
hello, I 'am new in uk an I live in Wolverhampton (from 4 months and I 'am from Italy)and I 'am in year 11. I have to choose to what to do in the next year so I' am so confused! I six form? College? or apprenticeship? i have a little bit interests on apprenticeship but i don't know the study process in uk so I'am so confused.... :(
jass
- 27-Nov-15 @ 9:32 AM
I quit sixth form half way through my first year and got my self an apprenticeship course. The course is 2 years and gets me up to level 3 which qualifies me as a personal trainer. Can I go to university with this?
Lottee
- 28-Apr-15 @ 9:43 AM