Wages and Funding for Apprentices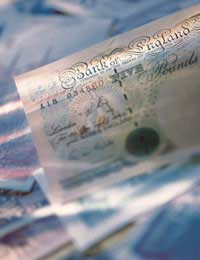 The main draw of becoming an apprentice is the fact that it is possible to earn money while you are training and learning. Combining work with study means apprentices can get the best of both worlds.
It is important that apprentices make sure that they understand what they are entitled to before starting an apprenticeship. Employers will need to pay a salary and give apprentices time off in the same way that they would for any other employee.
While on an apprenticeship it may also be possible to get other funding to help you with transport or childcare costs or supplement a low income.
Wages
Taking home your first pay cheque is a great feeling and one of the best things about starting an apprenticeship. As an apprentice, it is easy to feel that your employer is doing you a favour but an apprentice is an employee and needs to be paid accordingly.
The minimum apprentices can earn is £3.40 per hour (from Oct 1, 2016) but the best idea is for an apprentice to check what similar jobs are being paid so that wages can be compared. Remember that a fresh apprentice is likely to have less skills than more experienced employees though so wages will be lower.
Funding
There may be grants or funding you can apply for locally or through private funders so ask your college or jobcentre about opportunities that are available.
Benefits
Like anyone who is on a low income, apprentices may be eligible to get benefits from the government. These are in place to help people who do not earn much and it is worth finding out what you may be entitled to.
There are a variety of different benefits available such as housing, council tax or low income allowances. Additionally if apprentices have children they can probably claim child tax benefits and may be able to get help with childcare costs. Contact your local jobcentre to find out more.
Payrise
Obviously it is not advisable to start asking for a payrise in your first week but as apprentices develop more skills and understanding of the industry it is reasonable to discuss money. Apprenticeships are all about learning and training and this will inevitably make apprentices better at their job and more valuable to the company.
Employers should be open to discussing wages if the apprentice can prove their commitment, development and value. Apprentices should offer solid examples of how they improved and why they have become more important to the company. Be reasonable about any requests and see if both parties can leave feeling satisfied.
Apprentices are taking a big step towards gaining skills and qualifications that will help their careers and deserve to be paid reasonably while they are training. Employers should offer competitive wages and be willing to discuss payrises as apprentices progress. Also, make sure that you check what benefits and funding you may be entitled to on top of your salary.
You might also like...
HiI'm looking at starting a vehicle restoration apprenticeship. I'm 39 and obviously will be taking a £100 a week pay cut. Would I be able to claim any funding or similar?
Joe
- 29-Nov-22 @ 7:26 AM
Just wondering if someone can help I'm a self employed decorator and have a young lad that's just started with me. Was just wondering if their is any help out their so I can help towards his wages or maybe putting him through a training course
Mogley
- 5-May-22 @ 7:43 PM
Hi I'm 37 and I am currently on a work boat apprenticeship is anyway I can get additional financial help
Graham
- 29-Mar-21 @ 2:46 PM
Hi I was wondering if anyone can help me , my 16 year old daughter is applying for apprenticeship in hairdressing after her exams , is there any Gants out there that my daughter can clam to help with equipment she might need
Mandyc37
- 8-Mar-21 @ 12:46 PM
Hi, I'm 38 years old (soon to be 39) and have a well paid job as a teacher.However, I would like a career change and have considered an apprenticeship with the NHS. The problem is, as an apprentice, I would only earn around £120 a week, which would be nowhere near enough to pay my bills and support my family. Is there any Government funding for people joining the NHS? Thanks.
Fran
- 2-Aug-20 @ 5:10 AM
My son is 18 on his 8th month as an apprentice in construction. Due to covid19 he has worked away for 3 weeks so far ,7 days a week. He has only received the minimum hourly rate of £3.90.?surely he should receive a top up of wages for working away and the expenses he has incurred. Kind regards
Mich
- 10-May-20 @ 6:02 PM
Hi, I'm 36 years old and have a pretty decent paid job. However, during this Covid 19 pandemic, I have decided that I want to do something more worthwhile with my life and have considered joining the Ambulance Service. The problem is, as an apprentice, I would only earn around £150 a week, which would be nowhere near enough to pay my bills. If there any Government funding for people joining the NHS? Thanks.
Scott
- 8-May-20 @ 8:21 AM
Hello I'm 38 and want a career change I want to start a plumbing apprenticeship if my wages are not enough for my basic outgoing will it be topped up also where is the best place to go for a apprenticeship I've seen the army does them am I to old
Aaron
- 13-Apr-20 @ 1:09 PM
I'm a 45 yr old woman who has been a single parent. I've always worked in retail. Now my son is at Uni I would like to re train as a Dental Nurse. This would mean running my house on an apprentice wage. Is there any financial help I could apply for? Thanks.
Kbec
- 17-Feb-20 @ 7:30 AM
I'm a apprentice and I have been evicted for Complaining on Mold issue I'm evicted tommorow and I'm homeless with 3 doughters. What help on housing could receive .?
Fidel Lopez
- 6-Feb-20 @ 3:37 AM
My son is working for my husband as an apprentice plumber. How do we pay my son's national insurance and tax contributions? My husband is a sole trader and will be submitting his self assessment accounts at the end of the month and I need to know how to put this on the self assessment form. Thank you
Lanni
- 16-Jan-20 @ 2:48 PM
Hi, my son started an apprenticeship in September. He is averaging 20/24a week because of the weather or machinery breakdown. My question is, is there an minimum he should get paid? He rightly says he would get more money with a part time job. He was expecting to do a 39 hr week but quite often dies half of that.
Paula
- 15-Nov-19 @ 3:52 PM
Do apprentice get any travel money before their first pay or any other funding other then their actual wage
Urfana
- 4-Oct-19 @ 6:43 PM
Hey my name is Emily I'm just wondering if you can help me I'm on apprenticeship avnd i start 25th September I'm doing 24 hours apprenticeship would I get universal credit and working tax I've got a young child that starting nursery and I need to know on the basis of the cost of nursery thank emily
Ems
- 16-Sep-19 @ 1:45 AM
Hello, I am just wondering something. I'm 20 years old and possibly going to start an apprenticeship. The manager at the interview told me that I will get 3.90 a hour so £117.00 a week. Surely I should get more than that as I'm over 19 and it will be my first year in an apprenticeship (the apprenticeship it is 1 year too) I will turn 21 by the time I finish it. Thank you.
Steffi
- 31-Aug-19 @ 11:24 AM
I am 31 haven't worked for 12 years due to caring for my children. I would like to start an apprentice but because an apprentice wage is quite low will I received any benefits like child tax credits? My partner is in full time work.
Kerry
- 17-Aug-19 @ 2:13 AM
Hi if I do a apprenticeship will I get any childcare vouchers help, my partner and I both work full and part time. Thanks ali
Ali
- 9-Aug-19 @ 10:35 PM
Hi, I have a 3 year old and wanting to start an apprenticeship 30 minimum a week on apprentice wage, I want to know if I'd get help with childcare costs please?
Chloe
- 24-Jul-19 @ 7:38 PM
Hello, I'm 21, a single mum of a 1 year old. I was wondering if I wanted to do an apprenticeship would I get help with childcare costs? Heather
Heather
- 15-Jul-19 @ 8:47 AM
Hello, Just wondering if as an apprentice you can get help with childcare costs? My daughter is 1 years old and I'm 21, im looking to go back to work but would like to do an apprenticeship. Thanks
Heather
- 15-Jul-19 @ 8:45 AM
My son is 17 and is in 6th form but wants to do apprenticeship. Iam, on disability universal credit and get carers allowance for my son who has cystic fibrocis. I thought that if he does an apprenticeship that it counts as in education and i keep the money I get for him but, I've know read thst if he gets paid I lose my benefits for him? I am so worried about losing benefits and very confused about what to believe?
Catlady
- 23-Jun-19 @ 1:00 PM
Hi I am a training coordinator for hairdressing apprentices, is there any financial help available for a 22 year old doing their first year on a hairdressing apprenticeship thus earning only £3.90 per hour and living in a rented flat trying to support their self? This is putting so much pressure on this apprentice. Can someone please help so I can advise ??
Nicky
- 20-Jun-19 @ 6:40 AM
Hi I was thinking of doing an apprenticeship in September but it's only gonna be paying 117.00 pounds a week, I live in alone in a one bedroom flat what benefits would I be allowed to receive please .? Thanks
Hels
- 23-May-19 @ 10:39 PM
I am 21 And have just started at a school as modern business management apprentice, I'm on £3.60 ph I live at home with my mum no children , I work 37 hrs pw would I qualify for top up on my wages please
Katie
- 15-May-19 @ 8:41 AM
I have recently commenced a registered nursing apprenticeship course. With the extra cost I have to pay to travel there and back and the requirement of certain study books I need I was wounder if is there any way I would meet the criteria to get some funds? I already earn over 25k a year.
Amy
- 13-Apr-19 @ 9:36 AM
I am 18 and i want to restart an apprenticeship as i left when i was pregnant. My daughter is now one and i was wondering if i would be able to get any help with childcare. I was working 9-6 with a one hour break in between and spending one day at college every two weeks. I was also earning in between £500-£600 a month.
Kiara
- 3-Jan-19 @ 5:40 PM
Hi....I'm 19 an hoping to start an apprenticeship soon as I'm already doing a pre apprenticeship course that will end in mid November....and hoping to get employed soon after that.....my problem is accommodation I hv no relatives in the UK just living with some friends for now and I hv to leave as soon as I start my apprenticeship....but the apprenticeship payment is too small to get me a house....so I'm asking if there is any other way to get a house....can I get a house from the council?.....what are the ways to get myself a house am desperately in need of it
phatima
- 22-Oct-18 @ 4:23 PM
My child has been working in a hair salon for around two months now but has just started hairdressing college, she has been told nothing about it except that she starts college on the 15th October!! She has brought all her own equipment (which she was told to do.) She has now been told by the college that the cost of the course is £150 which the employer pays.. her manager has told her that it's down to her to pay the cost, she is now really upset and worried that they will kick her off the course! I as her mum am not financially able to help her out and wondered if there was any help out there to support her college as this is her passion.
Kezz
- 16-Oct-18 @ 10:04 PM
Hi, I have been offered an apprenticeship position starting in January, it will be for 38 hours per week earning £16.300. I am a single Mum and am 33 and have a 2 year old son who turns 3 in January. I am planning to claim the 30 free child care hours. Do you know if I will be able to claim child tax credits, working tax credits, housing benefit and council tax reduction without any issues? I am claiming income support, child tax credits, housing benefit and housing benefit reduction at the moment with no issue.
nats
- 2-Oct-18 @ 11:54 AM
hello In september i started working as an apprentice in a school as a teaching assistant. so far i haven't had any holiday pay with the 7 weeks i have had to take of as the school was closed. as apprentices are by law entitled to holiday pay, where do i stand? if i dont get any pay for the summer holiday i am going to have no money when i get back to school in september.
lf
- 23-Jul-18 @ 11:02 PM