Learning Providers: A Vital Tool for Employers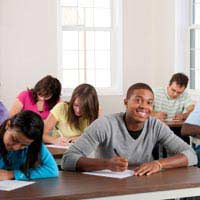 From an employer's point of view, a learning provider is amongst the most important bodies in the apprenticeship process. Many employers are put off apprenticeships because of the study element; apprentices carry out some 'classroom'-based learning during the course of their training, and many employers presume that they are not sufficiently well qualified or equipped to provide this.
This is where learning providers come in. They allow firms to 'outsource' elements of the apprenticeship process, allowing you to concentrate on providing top quality on-the-job training.
What are Learning Providers?
Learning providers take care of the 'off-the-job' element of your apprentices' training programmes. While you provide day-to-day guidance regarding the practical elements of the job, the learning provider gives apprentice an academic grounding.
Your local college or other Further Education establishment will often be the learning provider. There are, however, a range of specialist organisations that exist solely to provide off-the-job training to apprentices. Each apprentice will have their own 'mentor', appointed by the learning provider, to help them through the academic side of their training.
Benefits to Your Business
Properly trained apprentices are an asset to any business. The academic bedrock of their training often becomes a fundamental element of their skills, enabling them to move between roles and progress through the company.
Learning providers help to bridge the gap between purely vocational qualifications and the entirely classroom-based learning that many apprentices seek to avoid. As a result, your business ends up with apprentices (and hopefully future conventional employees) with a broad skill set.
You should also remember that classroom-based learning is an important and necessary element of the apprenticeship process. Learning providers help to take responsibility for this element out of the hands of your business – saving you time and money.
Benefits to Your Apprentices
Your apprentices benefit from having a dedicated mentor to help them through the apprenticeship process. The role of the mentor often reaches outside the classroom, instead providing practical support and guidance in a range of areas.
Apprentices also benefit from a deeper understanding of their subject, and a broad range of transferrable skills. This can often provide them with the ability to move through an organisation more effectively, finding the position that is best for them.
Finding a Learning Provider
Searching for your local learning provider was, in the past, a difficult task. Today, the National Apprenticeship Service provides an online search engine for employers looking for learning providers. You can find this on the National Apprenticeship Service website.
You should remember, though, that not all learning providers will be suitable for your needs. If yours is a particularly specialist field, you may struggle to find a learning provider that can offer your apprentices the training they require. In these circumstances you may need to contact specialist learning providers in your industry, further afield.
Learning providers offer a valuable service to both employers and apprentices. Make sure you use them in order to offer your apprentices the training they require – and to furnish your business with highly qualified workers.
You might also like...