How Can the Government Help Me Get an Apprenticeship?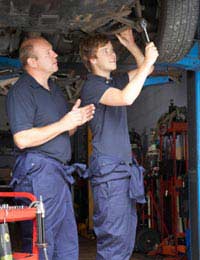 The government has outlined its intention to expand the national Apprenticeships scheme, increasing the number of vacancies on offer and providing new support for young people who wish to learn a trade. In the past, many prospective apprentices have been deterred by the lack of available positions. There had been little financial help for employers that took on apprentices, and it therefore became difficult to find vacancies.
But increased government support for apprentices and employers looks set to change that situation. Today there is a broad range of help available for those who are looking for a vacancy. So what can the government do for you?
Search Vacancies Online
Your first port of call when searching for an apprenticeship should be the government's Apprenticeship Vacancy Matching Service. Using this online portal you can find available apprenticeships by keyword or by location – meaning that you can find a vacancy doing what you are interested in, in an area that is convenient for you.
You can also use the site to register your details in order to be informed when suitable vacancies arise. This service is invaluable for prospective apprentices, and can be thought of as your first step towards recruitment.
Mentoring Services
Often, the best way to learn is from someone who has already been through the same process. The government's Horsesmouth service, also available online through the Apprenticeships website, puts you in touch with individuals that are currently in the apprenticeship scheme or have recently completed it. They can provide personal guidance, and give you pointers on how best to find and apply for a position.
Financial Support
Although there is no government financial support for apprentices, you will earn a wage. The government requires that employers pay their apprentices no less than £95 per week, although the average wage is actually far higher – across the country, the average apprentice is now paid around £170 per week.
It is also worth remembering that apprentices have far better earning prospects in the long-term. It is thought that those who complete an apprenticeship will earn around £100,000 more over the course of their career.
Young Apprenticeships
If you are aged between 14 and 16, you may be able to take advantage of the government's Young Apprenticeships scheme. This scheme enables you to spend 50 days with an employer, working in a similar way to a conventional apprentice, while continuing to study the regular curriculum at your school. At the end of the scheme you will receive an NVQ or similar qualification.
Those who take part in Young Apprenticeships often get 'fast-tracked' into full apprenticeships when they finish school. As a result, they can be a great way to get a foot in the door if you already know what you want to do.
Young Apprenticeships are offered on a school-by-school basis; you should check with your teachers to see whether the scheme is available to you.
Apprenticeships are a great way to get trained in a field in which you are interested, while getting a valuable taste of working life – and, of course, getting paid for it. Make sure you use the full range of support available to help you find a vacancy that is right for you.
You might also like...
Hello I have a workplace ready who want to support me through an apprenticeship scheme in digital marketing and social media. Can you please help me on how to go about this apprenticeship through this employment or lead me in the right direction. To be able to earn as I earn while being able to maybe attend a college a few days a month. I'm based in Tyne and Wear
Ant
- 19-Oct-20 @ 7:15 PM
hi my name is richard atkinson im looking for a apprenticeship in pluming i am still in full time education but will be leaving in may/ june next year my school is allowing me to look for one day a week looking for a appentceship in pluming which ive wish to do all my life, i will be very hard worker willing to work as team and willing to do anything that will help me in the near future, I go to Corpus Christi Catholic Sports College 01772 716912 please feel free to contact my school for any information many thank richard hope to hear from you soon or any help and advice would be very gratefull my contact number if you need to speak to me 07876305405
titch
- 17-Oct-13 @ 4:11 PM