GTAS and ATAS: Here to Help Your Business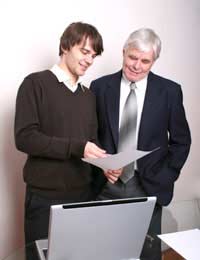 Group Training Associations (GTAs) provide training and guidance for employers, rather than for apprentices. Although GTAs have existed since the 1960s, their importance waned as government support for apprenticeships slipped. Today, though, GTAs are becoming increasingly valuable as more employers investigate the possibility of taking on apprentices – but are unfamiliar with the requirements of the scheme.
GTAs help to explain the Apprenticeships scheme to employers, and provide guidance for firms that wish to take on apprentices. They can often also offer hands-on support through the training process – which can be daunting for firms that have not previously employed apprentices.
What Are Apprenticeship Training Agencies?
Apprenticeship Training Agencies (ATAs) provide an alternative means by which firms can take on apprentices. ATAs employ and manage apprentices themselves, meaning that your firm does not need to take on another employee. The ATA then 'hires out' the apprentice to your firm, where they will gain experience and, often, conduct their training.
The government has just released £7 million worth of new funding for ATAs and GTAs, and this has been split between twelve organisations around the country. You can find details of your nearest Association or Agency on the Apprenticeships website.
Support For Small Businesses
ATAs and GTAs are primarily designed to help Small and Medium-Sized Enterprises (SMEs) that may not have the resources or experience to effectively run their own apprenticeship scheme. If you have not previously taken on an apprentice but believe that doing so could be beneficial both to your firm and to the individual in question, your local ATA and GTA will be able to offer guidance on the best way to achieve your aims.
You should generally approach your local Group Training Association first. They will explain the nature of the Apprenticeship Scheme, and demonstrate how you can make it work in your business. They will also help you to set up and manage the training and education element of the apprenticeship. This is particularly important, as it can otherwise represent an untenable expense for small businesses.
If you then decide that you wish to take on an apprentice, but that you do not wish to take on another employee, you should contact your local Apprenticeship Training Agency. They will try to help you find suitable candidates, and will work with you to determine a suitable division of training tasks between your firm and the Agency.
What Does it Cost?
Group Training Associations and Apprenticeship Training Agencies are normally not-for-profit organisations. They are generally established with grants, and are set up with the specific aim of helping small businesses that might not otherwise be able to participate in the Apprenticeship Scheme. As such, their services are often provided free of charge.
You should remember, though, that there are numerous other costs associated with apprenticeships. You will need to have sufficient resources available to provide suitable training and guidance to apprentices, and you will need to be able to pay their wages.
Apprenticeships can be a great way for employers to develop a skilled, high trained workforce. ATAs and GTAs are here to help you achieve that goal.
You might also like...