How I Chose My Apprenticeship: a Case Study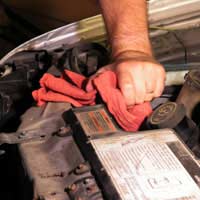 For Greg Chapman, 18, from Norfolk, choosing his apprenticeship was a balance between what he wanted and what was available.
Greg explained how he utilised the all local services he could find to help him choose. "I'd always wanted to leave school as soon as possible because I just didn't really get on with it. I loved being with my friends and I enjoyed some subjects, especially Design and Technology, but the rest of the time was really difficult for me. Although my parents were happy for me to leave school as soon as I finished my GCSE, they wanted to make sure that I found a proper job."
Researching Possibilities at 16
With the help of his parents and the careers advisor at his high school, Greg decided to look into the possibilities available to him at 16.
He continued, "I didn't really know about apprenticeships, to be honest. I thought you either did A levels at school or college or got a job. Some of my friends got jobs straight away but there weren't that many options available so they're mainly in factories. My dad took me to speak to an advisor at the local Job Centre and he told me about an apprenticeship scheme that would give me some money each week and give me a day a week to get an HND. He said that there were a few different options but that each of them was really over subscribed."
"The one that most caught my eye was a mechanics course, with four days a week working at a local garage and one day at the college. I was a bit put off about going to college because of my experiences of being at school, so the advisor arranged for me to go in one afternoon and talk to some people there, which really helped. I filled in my application and got offered an interview with the garage, but they told me that they had ten people apply for the role."
Plenty of Preparation
With the help of his family, the careers advisor and a friend that already worked as a mechanic, Greg prepared for the interview. "The more I learnt about the job the more I realised what a great opportunity it was, especially as so many of my friends that were working in factories couldn't really see any career progression other than just working loads more hours. I was determined to win the place so I worked really hard to prepare myself, such as researching the course, learning more about the role of a mechanic and thinking about additional issues like customer service."
By the time the day came for the interview, Greg felt nervous but well prepared. His hard work clearly paid off because he was offered the coveted apprenticeship. He concluded, "It's really been the best thing for me because it means that I've been able to work towards a better qualification while earning money. I've made sure that I take advantage of all the funding and initiative available, which has really helped my parents as I've been able to get help with some of my living costs. I can see myself working my way up here and I know that being an apprentice has given me a better start that the other options that were available to me at 16."
You might also like...