From Apprentice to Business Owner: A Case Study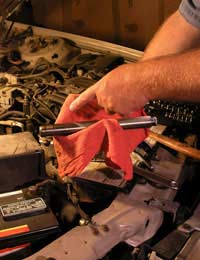 Lee, 24, is a successful owner of a mechanics business, who learnt on the job as an apprentice.
"When I was younger I was never really interested in anything except hanging out with my mates and cars and I left school at 16 with a handful of GCSEs but absolutely no direction. My uncle had a car that he was doing up and I used to go round and help him out while half heartedly looking for a job. I got chatting to a guy at the job centre who started asking what I wanted to do. I said I had no idea and he asked me what I liked doing. When I said I liked cars he told me about a mechanics apprenticeship and that was the beginning.
Revving Up
"I didn't really have much clue about what it involved but getting to work on cars everyday was exciting to me so I was keen to get stuck in. From day one I loved it. I spent all my time there, even when I didn't need to be and I had a great boss who really encouraged me. Because of my interest I seemed to be a natural and was soon getting to do a lot of my own work and learning loads of new skills."
Lee finished his apprenticeship and moved onto a new job before taking the big leap of setting up his own business.
"I read about some grants that were being given out to young people to set up their own businesses so I put together a proposal and applied for one. To my shock I was given one and was able to pay for all my set up costs – it was amazing. Being in charge of your own business is very different from working for someone else. It is really hard but because I had built up such a good work ethic, and was so passionate about it, I didn't mind putting in the hours."
Employing Apprentices
"After 6 months my business was doing so well that I had to employ someone else. After my experience as an apprentice I was really keen to take on another young person and give them the same opportunity that I had been able to have. I had quite a few applications and was really careful about who I chose because I wanted them to be as keen as me. I was lucky to pick a great apprentice who has been with me for nearly a year now. He reminds me of myself and is always doing more than is required of him.
"Who knows where I would be if I hadn't done my apprenticeship but I can guarantee I wouldn't be running a successful business. I would probably be stuck in some dead end job and not know any different. My girlfriend is having a baby later this year and I am so happy that I am able to provide for them by doing something that I love and pass my experience onto other apprentices to set them up in their lives."
You might also like...