An Apprentice's Study Commitments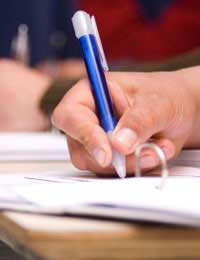 An apprenticeship differs from taking on a normal job, not only because of the on site training but also the element of studying that you will have to do. This studying will lead towards an NVQ qualification and is an equally important part of being an apprentice.
You will need to learn how to balance your work and study, with the help of your employer and college, so that you can be sure you are learning properly and achieving what you need to.
What is Expected of You
As an apprentice you will be expected to pay the same amount of attention to your work and your study. An apprenticeship combines these two elements for a reason; so you can be sure you are learning everything you need to know about the industry and job role.
Studying may not come naturally to you but you need to find a way to cope and put the time and effort in to do your best. Equally though, you must not study at the expense of you work as you have a commitment to your employer.
Balancing Work & Study
If you are not used to it, then balancing work and study can be a bit of a challenge and may take a bit of time to figure out. As part of you apprenticeship your employer should be willing to give you some time off to attend college and work towards your qualification.
Talk to them about your commitments and see whether you can come to an arrangement that suits you both. Studying is an important element of your apprenticeship but it should not make you neglect your work duties so you need to try and find the balance.
Making Time For Study
Holding down a full time job and trying to fit your studying in as well, can be hard work. You need find the time and space to do it. The best bet is to study at home but when you are living with other people this can be difficult. If you cant study at home then look for another quiet place such as a library. You will need to be strict with yourself, family and friends so that they know you are studying and don't try to disturb you.
Asking For Help
Learning is much easier for some people that others, so if you are struggling with your study then you need to ask for help. If it is a time issue, then try and talk to your employer about having more time off or working more flexible hours.
If you are finding the work too hard then your college tutors will be able to guide you through it. If you can't study at home, then ask if you can use the college facilities. Whatever the difficult with your study commitments, don't be afraid to ask for help or you will suffer in silence.
Studying doesn't come naturally to everyone and you may need a bit of help to balance your work and study commitments. Both elements are important parts of your apprenticeship so you need to make sure you get the balance right. Talk to your employer and tutor, find a quiet place to study at home and find a way to make it work for you.
You might also like...
Ive been told that all my course work except 2 days when an assesor comes in to check how im doing and give me some more work. Ive been told i have to do it in my own time. Just worndering how many days/hours should be given to doing course work per month during 'work hours'. Thanks