Why Should My Son or Daughter Start an Apprenticeship?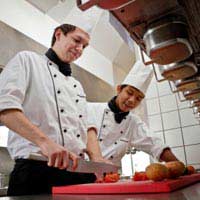 Apprenticeships are a valuable tool for those who wish to enter a vocational profession, or those who wish to develop practical skills. They equip the apprentice with the knowledge they need to succeed in their chosen field.
But parents are often understandably worried about the implications of apprenticeships. Many believe that doing an apprenticeship means the individual is 'giving up' on their educational career, or limiting their future options. So why should your son or daughter do an apprenticeship?
Advantages of Apprenticeships
Apprenticeships provide a unique opportunity for your son or daughter to gather 'real-life' skills in a specific working environment. All too often, classroom-based qualifications are criticised for equipping individuals with skills and knowledge that have no application in the world of work. Apprenticeships, on the other hand, offer on-the-job training – meaning that apprentices finish their training ready to go straight into a job.
What About Qualifications?
If your son or daughter intends to do an apprenticeship rather than enter further or higher education, you may well be worried that they will not have qualifications that they may need later in life.
In fact, apprentices work towards recognised qualifications like NVQs and BTECs. These are recognised by a range of institutions, and could be invaluable if your son or daughter decides to return to education later on. Similarly, a completed apprenticeship is deemed to be equivalent to good passes at GCSE, A Level or Foundation Degree, depending on the level of apprenticeship being carried out.
Apprentices will also develop a range of important transferrable skills. These are not job-specific; instead, they will stand your son or daughter in good stead in any profession. This is particularly beneficial for those who are not yet entirely sure about the field in which they wish to work, and who wish to keep their options open.
What About a Job?
Many apprenticeships result in an offer of permanent employment upon completion. Indeed, this is a major part of the motivation for many employers; they get the chance to develop their workers' skill sets, and provide themselves with top quality employees.
It is important to remember, though, that long-term employment is not always guaranteed. Some businesses may not require the services of every apprentice they take on, while circumstances may change for others. As such, it is important that you and your son or daughter consider other potential options.
Even if your son or daughter is not offered a position at the firm with which they complete their apprenticeship, it is worth remembering that many of the skills they learn will be easily transferrable. Apprenticeships are designed to provide individuals with the knowledge they need to work in a specific sector – not necessarily for a specific employer. Those who have completed apprentices will inevitably find themselves at the top of the pile when applying for other jobs.
Apprenticeships are enjoying something of a resurgence. Following a period in which they were all but ignored, these important schemes are now being actively promoted by government. If your son or daughter is looking for a way to develop their practical skills while studying for a formal qualification, an apprenticeship may well be the best choice.
You might also like...