Financial Provisions for Apprentices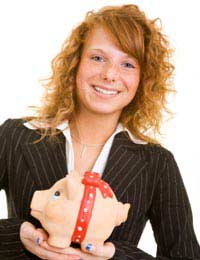 Parents are often forgotten when thinking about apprenticeships. While the onus and focus is obviously on the apprentice themselves, parents also have a vital role to play.
Many parents feel that they should make a financial contribution to their son or daughter's apprenticeship. But what are the financial provisions available – and do you need to help out?
Will My Son or Daughter be Paid?
Apprenticeships are paid positions. Indeed, they are a form of employment. As such, by law apprentices are entitled to be paid at least the National Minimum Wage.
Many apprentices actually receive more than this. But the wage your son or daughter is paid will depend on the nature of their contract with their employer.
It is worth remembering that, although apprenticeships are a form of employment, they are often less well-paid than conventional positions. As such, it can be difficult to survive on an apprentice wage in an expensive area.
Do I Have to Pay Anything?
Neither apprentices nor their parents are obliged to pay anything as a result of their training. The costs of the training are met by the employer and, depending on the age of your son or daughter, by the National Apprenticeship Service.
Of course, your son or daughter may require some new equipment or financial support. If they are moving town in order to fill a vacancy, the employer is unlikely to pay the relocation costs. These costs can add up, and it is often in these areas that parents choose to make a financial contribution.
Is an Apprenticeship Like a Job?
Yes. An apprenticeship is a combination of employment and on-the-job training. Apprentices are members of the workforce; they are employees, and are entitled to the same legal treatment as any other employee.
But, as has been mentioned, many apprentices are paid less than a conventional employee embarking on an entry level position. While they are entitled to be paid at least the National Minimum Wage, this may not constitute a 'living wage' – particularly somewhere like London.
What Can I do to Help?
Although parents are obviously not obliged to help their son or daughter through their apprenticeship, many choose to offer financial assistance anyway.
You might choose to top up your son or daughter's wages, or help them with their rent if they are living away from home. Alternatively, it may be cheaper for your son or daughter to live at home and commute to their place of work. You might also choose to help out with the cost of equipment or work clothing – although most of this should be provided by your son or daughter's employer.
Finally, it is worth remembering that many apprentices value emotional support above all. Entering an apprenticeship can be a daunting prospect, particularly if your son or daughter has limited previous experience of employment. Simply making sure that you are there to talk to can make a huge difference during this important period.
Parents often have a vital role to play in their son or daughter's apprenticeship. While money might be tight, a financial contribution is not always the be all and end all. Just being supportive is often the best thing to do.
You might also like...
hi, I wonder if any one can give me some advice, my daughter is doing an apprenticeship at a hairdressers. I am a single mum on benefits and have been told that I do not get child tax credits or child benefit, but a friend of mine gets it for her daughter and she earns the same amount as mine, I was toldif she earns a wage then I get nothing, how come there's one rule for one and one for another.I am struggling, and still have to buy food, and pay bills, my daughter is going to give me £10 of her wages, and most of her wages goes on travel, she wants to learn to drive to, but cant afford it. I'm going back to work 16 hrs as I have a six year old too, I am just waiting to start, but will still be on a low wage, but I was better off when my daughter was at college, why is it different from being at college, the wage is so poor, and its government funded anyway, i think parents should get something towards their care, even if its a small amount, towards food, etc, as I am short £70 a week, the rules need to change, and their needs to be more help for the parents of apprentices. Also can anyone tell me the differences, approved training, work led apprenticeships, I am totally confused, my daughter does training once a week. Why do some get child benefit and some dont, can anyone explain, because if I am entitled, I would like to know, as cant survive on what the government says i can live on. I am thrilled that my daughter has got a job, but at what cost to our quality of life, there should be more help.
saree66
- 6-Jul-12 @ 2:29 PM