Learning from Your Colleagues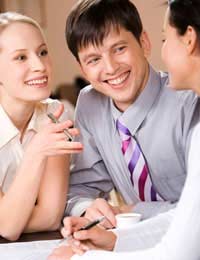 As an apprentice you will be new to your job and probably the industry that you have chosen, because of this you need to take every opportunity to learn and absorb information. As well as your training, one of the best ways to learn is from your colleagues. You will be surrounded by people who have more experience, a lot of knowledge and can help guide you through your apprenticeship.
Be honest about wanting help, ask for feedback and build relationships so you can turn to them for advice.
Listen And Watch
When you first start at a new company it can be overwhelming as there are so many people and so much going on around you. Try to use this to your advantage by taking every opportunity to learn and absorb what is going on. Watch your colleagues as they work, listen to their conversations with clients or plans for a meeting and learn why they are doing it. By paying attention to what your colleagues are doing you will be able to follow-up any questions that you have and become better at your job.
Ask For Advice
The worst thing that you can do as an apprentice is suffer in silence. If you don't know something or are uncertain about what to do, then ask for advice. Everyone has been the new person at some point in their life so they know what it is like. Most of your colleagues will be happy to answer your questions and help you through. Try not to bombard people and understand when they are busy so that when you do ask for their advice, they have the time to help you.
Ask For Feedback
As well as asking questions and learning form what your colleagues are doing it is good to get some feedback about your own work. By finding out what skills you are doing well and which areas you could improve on, you can learn more about yourself and improve your work. Ask your colleagues to be honest with you when you make a mistake and get them to give you constructive feedback about what you could do differently.
Find A Mentor
In many companies new apprentices will be assigned a mentor to help them settle in. If you are not given one then it is worth trying to find a colleague who would be willing to take on the role. A mentor will help you learn about the industry and your role by giving you one to one advice and guidance. If you can build a strong relationship then they will be there to help you as you progress or have any problems.
Learning from your colleagues is one of the best ways to expand your knowledge of the company and industry that you are an apprentice in. Watch and listen to what they are doing and ask any questions you may have. Also, ask for feedback on your own work so you can learn how to improve. Ideally, find a mentor who can provide you one to one guidance and advice.
You might also like...