Expanding Your Apprenticeship Scheme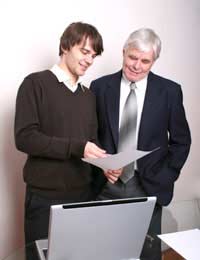 Apprentices provide a valuable service to UK businesses. Apprenticeship schemes allow firms to train potential employees in a uniquely useful environment, providing businesses with workforces that already have significant relevant experience.
Having set up an apprenticeship scheme, many growing businesses wish to expand that facility. But doing so can be a daunting task – and one that many firms presume is prohibitively expensive. So why should you expand your apprenticeship scheme, and how can you do it in a cost-effective manner?
Cost Efficiency
The first thing to note is that expanding your apprenticeship scheme can significantly increase its cost efficiency. Many of the costs associated with setting up an apprenticeship scheme need not be repeated each time you take on a new apprentice. Things like staff training costs, or capital expenditures to provide you with extra equipment, are one-off costs. These costs can make it very expensive to take on just one or two apprentices – but the cost falls dramatically when it is spread across 50 or 100 apprentices.
A large apprenticeship scheme can also be a great way of keeping your recruitment costs down. According to some recent studies, it can cost up to £9,000 to recruit a single employee – making an apprenticeship seem cheap. Even better, at the end of the process you end up with a highly qualified staff member who properly understands the nature of your business.
Using GTAs and ATAs
Group Training Associations (GTAs) and Apprenticeship Training Associations (ATAs) are designed to help small businesses set up and expand their apprenticeship schemes. These organisations provide small firms with an opportunity to 'outsource' a significant element of the training process – and therefore allow you to concentrate on giving your apprentices the practical experience they need.
ATAs look after many of the management tasks associated with apprenticeship schemes. In some cases these organisations will take on apprentices themselves, and then hire them out to firms like yours. This can remove a lot of the administrative burden otherwise assumed by firms running taking on apprentices.
GTAs also play an important role. These organisations help to provide apprentices with the classroom-based element of their training. Many firms consider themselves under equipped to provide this classroom-based learning without a significant initial outlay. GTAs therefore provide smaller firms with a cost-effective and sustainable way of expanding their apprenticeship schemes.
Apprenticeships for Large Firms
There is additional help available for large firms that wish to establish or expand an apprenticeship scheme. If you run a business with more than 5,000 employees, the National Employer Service (NES) should be your first port of call. This organisation, supported by the Learning and Skills Council, aims to provide in-depth and hands-on information – and currently delivers one in every five UK apprentices. You should contact the NES for more information.
The potential importance of your apprenticeship scheme should not be underestimated. By expanding this scheme you can continue to provide your business with highly trained, valuable new employees. Remember that this need not be an expensive proposition; there is significant help available, from the government and elsewhere, that should allow you to expand your apprenticeship scheme in as cost-effective a way as possible.
You might also like...