Top 10 Tips for Successful Workplace Relations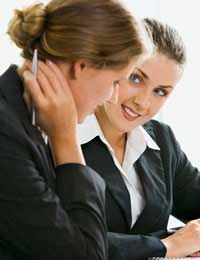 The workplace can be uniquely difficult to navigate. It is, in many ways, an unnatural construction in which individuals who seemingly have little in common but their occupation are forced to cooperate.
As an apprentice, you might be concerned about what may well be your first real experience of the workplace. On the other hand, if you are an employer preparing to take on your first apprentice you could be concerned about building a safe, productive, environment for everyone.
Here are some top tips for successful workplace relations – for both apprentices and employers.
For Apprentices
1. Know your Rights…
It is important for every employee to know their rights in the workplace – but this is particularly vital for apprentices. Make sure that you understand things like your pay, holiday entitlement, breaks, union membership and so on. And remember that these rights are there for your protection, so don't be afraid to use them.
2.…and your Responsibilities
At the same time, though, you should ensure that you are fully aware of your contractual obligations. Make sure you know what you will be expected to do, when you will be expected to turn up, and who you need to report to.
3. Get to Know your Co-workers
This is absolutely crucial. Make sure that you introduce yourself to your colleagues, and try to get to know them. You will, of course, be spending much of your day in close proximity to them, so it's important that you try to get on! If you feel awkward introducing yourself, ask your line manager to take you round when you arrive.
4. Don't be Afraid to Ask
Throughout your apprenticeship there will, of course, be a whole host of things that you don't yet know about. Indeed, that's part of the point! So don't be afraid to ask questions, and remember that you won't be expected to know everything. By simply being honest, and asking for help when you need it, you will get more out of your apprenticeship – and both you and your employer will know where you stand.
5. Don't Burn Out
It is very easy to forget about life outside the workplace, particularly if you are just starting a new job and are eager to impress. But it is important that you remember that your apprenticeship isn't everything. Make sure that you set aside time in which you are not working or studying, to do something relaxing and enjoyable. This will help to ensure that you stay healthy and happy.
For Employers
1. Be Patient
When taking on an apprentice it is important that you are realistic about their abilities, and about the work that they will be able to perform. Always keep at the forefront of your mind the fact that this is a training scheme, and that the apprentice will be constantly learning. Don't get frustrated or exasperated if there is something they cannot do.
2. Know the Law
This is a vital consideration for any employer. Remember that you have a series of important and significant legal obligations to your apprentice. You need to understand these obligations, and fulfil them. Failure to do so could well mean that you end up at an employment tribunal. If you are in any doubt about the legal requirements placed on you as an employer, make sure that you seek independent advice.
3. Remember SMART
Unrealistic goals are amongst the quickest ways to foster poor workplace relations. Your apprentice needs to set tasks that are challenging, but which they will be able to fulfil. The SMART rule is useful for setting goals. They should be Specific, Measurable, Attainable, Realistic, and Time-limited.
4. Provide Support
Where possible, try to offer some pastoral support to new apprentices. Remember that starting an apprenticeship can be a stressful and difficult experience, and that the apprentice might benefit from some personal, informal help. On the other hand, make sure that you don't micro-manage – and make sure that you remember the boundaries of the employer-employee relationship.
5. Be Honest
Finally, it is vitally important that you are honest with your apprentice. This is clearly important during the apprenticeship, but it is also paramount when the training is coming to an end. It may well be that the apprentice is expecting to receive a job offer at the end of their training. You should be honest and up front about whether or not this will happen. If you do not intend to offer them a job, make sure that you explain why - and, finally, try to do this in a timely manner in order to ensure that they stand the best possible chance of finding employment elsewhere.
You might also like...
My son has been asked to hand in his notice as an apprentice after 5 weeks. He works in a garage and understood that working on a Saturday was optional. He already works 40 hours a week. He is 17. He has worked 3 Saturday's already and when he asked if he could not work this Saturday the manager suggested that he hand in his notice as Saturday's were going to be a problem.It is not.However am I right to understand that young people should not be working over 40 hours until they are 18 and is this manager acting fairly?