How to Deal with a Poor Apprentice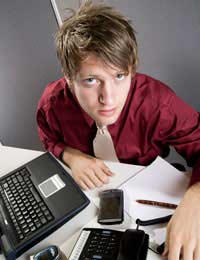 As an employer, an apprentice can be a great asset to your company. They introduce new skills, and enthusiasm into a team while providing the opportunity to mould them into what you need.
When you offer an apprenticeship you hope you will end up with a great candidate but unfortunately it doesn't always happen. If your apprentice is not doing well then you need to realise this, talk to them and work out what you can do to try and make them thrive.
Noticing a Poor Apprentice
The first step to improving a poor apprentice, is to realise that there is a problem. Sometimes it can be easy to become detached to what is happening with your staff so you need to trust other people to tell you.
Make sure your apprentice has someone to report to, or a mentor, who can keep you informed of their progress. If you have a poor apprentice, the earlier you know of, and deal with the problem the more chance you have of turning them around.
How a Poor Apprentice Affects Other Staff
Having a poor apprentice cannot only be a drain on your business in general but also on other staff members. When someone isn't pulling their weight, it means other people have to work harder and may be finding it frustrating.
If you are offering an apprenticeship you need to make sure that there is a good scheme in place to guide them and that any problems are reported quickly so they don't become a drain on their colleagues.
Improving Your Apprentice
Once you have established that there is a problem you can work on improving a poor apprentice. Talk to them about the situation and explain why you think that they are not meeting the standards that you expect.
Find out why they are not doing well. Are they finding the work too difficult? Did they underestimate what an apprenticeship involves? Are they having problems outside work? Whatever it is, work with them to set goals and give them the help they need to improve.
Taking Further Action
Unfortunately, however patient and helpful you are, some people just don't pull their socks up. If your apprentice continue to be sub-standard, despite your bets efforts then you may need to take more drastic action. Warn them in advance about your intentions and give them the opportunity to change. If they don't then you may want to give them a formal warning, or even consider dropping them as an apprentice.
When you offer an apprenticeship you obviously hope that you will end up with a great apprentice who can bring a lot to your company. However, if this doesn't happen and you end up with a poor candidate then you need to flag the problem up.
Any bad staff member can affect morale and productivity in a company and you don't want your apprentice to become a drain. Find out what's wrong, work them to try and fix it but if they fail to improve then you may have to think about dropping them.
You might also like...
Please join me in any group discussion about Apprenticeship. I would like to be Apprentices Trainer,how should I start?
Sadricko
- 10-May-17 @ 10:20 PM