Make a Good Impression at Interview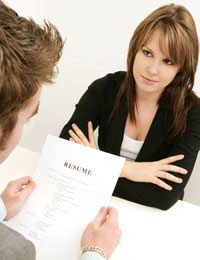 Your qualifications and experience may look great on paper, but if you can't impress at the interview then you won't get a good apprenticeship job. If interviews aren't your strong point or you haven't done many before then don't worry, you can always improve your interview skills.
Getting a friend to practice interview questions with you is a great way to become more confident. The more relaxed you feel about the whole thing then the better you will come across.
Get the Basics Right
Making a good impression at an interview starts with the basics. Firstly and most importantly, be on time. Look up the address beforehand and work out how you are going to get there. If something happens that is beyond your control then make sure you have the phone number with you that you can ring and explain.
Similarly, if you have any forms to fill in, make sure you do so neatly and correctly and be sure to take along any ID or CVs that they have asked for.
Practice Makes Perfect
Not everybody is naturally good at interviews but you can improve your interview skills by practicing. Ask a friend or family member to give you a mock interview and assess how well you do. Think about the interview questions that the employer is likely to ask and plan some answers in advance. Also, practice introducing yourself and talking about your life and interests. The more prepared you feel, the better equipped you will be to cope with the real thing.
Show Your Personality
Your potential employer will have seen your application and know all about you on paper, but the interview is the first time they will see your personality. Coming across well is as important an interview skill as having good answers to questions. Be friendly and open and don't try too hard as this is likely to stifle your natural personality.
What Not to Wear
Just as important as what you say, is the way you present yourself. There is not point having great answers to the interview questions if you look like you haven't made an effort. Think about the industry and company that you are going to and what would be appropriate to wear. It is always best to be slightly smarter than too underdressed but if nobody at the company wears suits then find a presentable middle ground.
Relax
It is easier said than done but you really need to try and relax. Being too tense and nervous will mean that you don't perform to the best of your ability. By practicing your interview skills and planning answers to possible interview questions you will feel more confident. Also, on the day, take deep breaths, run through your preparation and tell yourself that you can do it.
Making a good impression at an interview isn't complicated but it is important. By planning in advance you will feel more confident and relaxed on the day and let your personality shine through. Practice answering interview questions and honing your interview skills. Decide what would be an appropriate outfit and know how to get to the interview. On the day, relax, take a deep breath and smile.
You might also like...