An Apprenticeship Using Your Skills or Talents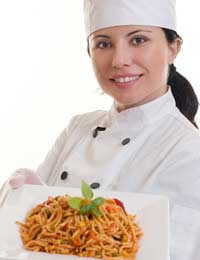 To make the most of an apprenticeship you want to find one that makes the most of your skills and talents. Whether that is leadership skills, construction skills or something more caring or creative. By choosing something that you are good at you are more likely to show enthusiasm and commitment and ultimately excel at it. You may say that you don't have any specific skills or talents, but that's not true, everyone does – you just need to find out what they are.
Discovering Your Skills & Talents
If not particular skills or talents spring to mind when you are looking for an apprenticeship job then you need to sit down and think about it. What were you good at at school? What do you enjoy doing? Which things do you find easy? What traits did others admire in you? A useful thing to do is to ask your friends and family as they may suggest things that you hadn't thought about.
Creative Skills
Are you good at art or music? Have you always made your own clothes or enjoyed cooking in your spare time? It is great to be able to do a job that you love so if you have creative skills then make the most of them. Use your talents on a jewellery making apprenticeship or perhaps in the media industry working in photography. Don't let your creative talents go to waste.
A Talent for Caring
Some people are born carers. It requires patience and understanding which are traits that many people just don't possess. If you do, then think about how you could use them. Have you always cared for your younger siblings or cousins? If so, then a career looking after children may be beckoning. Have you got a unique talent for looking after old people? It is a rewarding career that you could find an apprenticeship job in.
Leadership Skills
If you are a born leader then you want to put your leadership skills to good use. Look for an apprenticeship that may lead on to a management position or where you have to work closely with a team. Good leadership skills are important in any company and across all industries so there will be a lot of scope to develop your skills.
Practical Skills
You may never have been very good at maths or French, or particularly talented at school but you may be excellent at practical jobs. Whether it is construction skills, plumbing or making things, there are a wide range of trades that you can excel in. Use your talents to build a strong career. Talents such as construction skills are always going to be needed and offer good opportunity to work your way up.
Whatever your skill or talent is, develop it and use it. There are such a wide range of apprenticeship jobs available that you will be able to find something that suits you. If you are not sure what you are good at then ask your friends, family or teachers for advice.
You might also like...
Eye600 - Your Question:
Hi,Can a 17 year old young man get an apprenticeship in plastering even thou he has no qualifications, he left school failing his GCSE's.
---
Our Response:
A person You does not usually need formal qualifications to become a plasterer - please see National Careers Service link
here
. I hope this helps.
AnApprenticeship
- 21-Apr-16 @ 2:26 PM
Hi,Can a 17 year old young man get an apprenticeship in plastering even thou he has no qualifications, he left school failing his GCSE's.
Eye600
- 20-Apr-16 @ 11:14 PM
Patric - Your Question:
Hi,I am 35 and looking to completely change my career, and wanted to know if there where apprenticeships for people of my age?Many thanks
---
Our Response:
There is no upper age limit for apprenticeships but should you be aged 24+. However, you will have to apply for an advanced learning loan.Please see Apprenticeship Recruitment link,
here
which should answer your questions. Please aslo see our other articles on apprenticeships which may help you with any other questions you may need answering.
AnApprenticeship
- 23-Oct-15 @ 11:05 AM
Hi, I am 35 and looking to completely change my career, and wanted to know if there where apprenticeships for people of my age? Many thanks
Patric
- 22-Oct-15 @ 10:04 AM