How to Apply for an Apprenticeship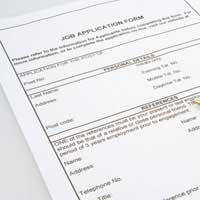 If you have decided that an apprenticeship is for you then the next thing to do is to apply for one. The best place to start is to call the apprenticeship hotline where you can get information about apprenticeship schemes in your local area.
If there aren't any then you may want to contact employers directly and talk about creating an apprenticeship. Either way, you will have to show that you are right for the job. This may include filling in application forms and making a good impression in an interview.
Existing Apprenticeships
The easiest way to apply for an apprenticeship job is to call the hotline where you can find out more about schemes available in your area. Alternatively, talk to your local jobcentre or learning provider about any available apprenticeships and they will be able to help you apply.
Apprenticeships may also be advertised in your local newspaper or on the radio so it is worth keeping your eyes and ears open to find out what there is out there. Companies may also advertise vacancies on their website. If you know a company takes on apprentices it is always worth ringing up and asking.
Creating an Apprenticeship Job
If you are keen to start an apprenticeship job but there is nothing available where you live then it may be possible to start one from scratch. If you are already employed then talk to your employer about putting you on an apprenticeship.
There is a lot of information available to help businesses create a scheme and you could explain the benefits to them. If you are not employed, there is no harm in contacting a company that you would like to work for and asking whether they have considered offering apprenticeships. They may be willing to work with you to create a scheme.
Application Forms
However you find the apprenticeship that you want to apply for there are likely to be application forms to fill in. This is the first official contact you will have with your potential employer so you want to make a good impression. Take time over filling them in and make sure you write neatly and clearly.
Gather any information you need, such as exam results, together in advance and think about what you are going to write. It is always worth getting somebody else to check your application for mistakes.
Interviews
If you are successful in the first stage of applying for the apprenticeship job then you will be asked to go for an interview. This is your chance to show your personality and explain why you want to do the apprenticeship scheme.
Think about the questions that they are likely to ask you and practice your answers with a friend. Also, think about what you are going to wear. You need to look professional and as if you are serious about the opportunity.
To apply for an apprenticeship job you first need to find a scheme that is suitable. Once you have seen one advertised or approached an employer then you must make your application stand out. Take time over your answers and check for mistakes. At the interview, look and act professionally and have some idea of what you will say.
You might also like...
@Husnaxo - there are a lot of business opportunities currently and I think the first thing you need to do is make the final decision on which route you would like to take by weighing up all the opportunities. You may like to search for a couple of career tests online and have a go at doing them to see what they throw up. Alternatively, I suggest you sit down with a careers advisor who may be able to guide you further. The National Careers Service also has a forum you can access via the link
here
. I hope this helps.
AnApprenticeship
- 6-Mar-15 @ 11:39 AM
Hi, I am currently in my final year at College and studying Level 3 BTEC Business Studies. I am going to be applying for apprenticeships this month. However, I am still not sure about what career I want to go into. I have my mind on Human Resource Management or Accounting and Finance. I would still like to go through the Business route as I do not want to waste 2 years of studying Business at College. Any other options for Business careers?
Husnaxo
- 3-Mar-15 @ 12:38 AM
@Lucy - I have included two links one to the gov.uk site which gives a link on how to apply for an apprenticeship in this field
here
. Also one from the National Careers Service that gives a bit more specific insight into the job as a special needs teaching assistant
here
. I hope this helps.
AnApprenticeship
- 23-Jan-15 @ 11:39 AM
Hi , I'm 29 and currently I'am finishing a level 3 on Child Protection and Nutritional therapy ( complementary course) I have a degree in Health and fitness . I want to work with children with special needs, and i'd like to know if you can help me find and apprenticeship in a special needs school? Thank you
LucyBarros
- 22-Jan-15 @ 5:50 PM
Hello, can you assist us un finding a music course for my son, and another for me.
lynz
- 3-Jan-15 @ 2:38 PM
hi im interested in an apprentiship as a dental receptionist or a out patiance clerk in a hospital please could you advise me on this im 41 have a family so am looking for no more than 30 hours a week hope you can help many thanks collette.
coll
- 13-Aug-14 @ 9:19 PM
pls assist me to get an apprentice i have got matric and nated of electrical engineer
rinkie
- 10-Jul-14 @ 8:25 PM
I am looking for an apprenticeship health and social care because i have done level 1 health and social care so i want to do level 2 health and social care at apprenticeship.
fikade
- 8-May-13 @ 3:06 PM
Hi, i'm 17 and i'm currently studying for my A-levels. I began working as a saturday girl at a family hairdressers a few months ago. After experiencing this i realised this was possibly something i'd like to do as a career. I'd like to be able to do an apprenticeship at my current working place, but they will not be able to take me on without financial help. Is there any way my employer can recieve help with this from the government so i can do my apprenticeship where i currently work?
plz let me know abt the scheme and apportunities......
TEJAS GANDHI
- 25-Aug-12 @ 11:47 AM