Learning Providers: How Can They Help My Business?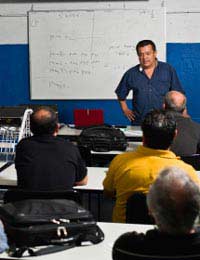 Learning providers are an employer's best friend. Apprenticeship schemes, while hugely beneficial to businesses, can be a lot of work – particularly for those who have not previously run an apprenticeship. Learning providers help to ease the burden, and encourage efficiency within your apprenticeship schemes.
What Are Learning Providers?
While employers are expected to provide the on-the-job element of the apprentice's training, the classroom-based element can be more difficult to fulfil. Many employers simply lack the facilities or resources to provide this vital part of an apprenticeship.
This is where learning providers come in. These organisations, which are often local schools or colleges, work with employers and take on responsibility for the classroom-based part of an apprenticeship. In some cases these organisations can also arrange other, administrative aspects of the scheme.
How do They Reduce my Costs?
Organising classroom space and teaching time for apprentices can be a costly proposition, particularly if you have not previously run an apprenticeship scheme. Learning providers can significantly mitigate this cost – and therefore increase your return on investment.
Furthermore, many learning providers have been helping employers deal with apprenticeship schemes for many years. They can often provide the expertise and experience needed to help ensure both apprentices and employers get the best possible outcome from the training. This knowledge is invaluable, and can often mean that you spend your money more effectively. Simply having someone to call and consult can mean that your investment is better targeted.
How Else Can Learning Providers Help?
Some learning providers also take on a 'pastoral' role for apprentices. They can provide one-to-one guidance and support for those embarking on an apprenticeship – and this can be of value to both you and the apprentice.
Happy workers are more productive, and the pastoral care offered by some learning providers can help to ensure that your apprentices are as upbeat and productive as they possibly can be.
Where Do I Find a Learning Provider?
Somewhat confusingly, there are several different registers of learning providers. Some learning providers are on one register but not another, and finding a suitable partner can therefore be difficult.
The National Apprenticeship Service has its own register of learning providers that allows you to search not only by location but also by area of expertise. Many learning providers specialise in specific industries and disciplines, so this can be useful.
It is worth remembering, though, that your local learning provider may not appear on a register. Your nearest learning provider is likely to be your local college, university or other further or higher education establishment. So it may also be worth calling these organisations directly to see if they may be able to help you.
Learning providers are a vital tool for businesses of every size running apprenticeship schemes. They can help to ensure that you fulfil your obligations, and that you get as high a return on your investment as is possible. Finally, they also help to guarantee that your apprentices get the best experience they possibly can from their training – and, in turn, that you get the best possible employee at the end of it.
You might also like...