Filling Skills Shortages with Apprentices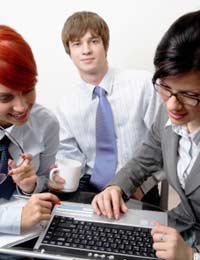 For a number of different reasons, your business may find itself facing a skills shortage in a particular area. This may be because there has been a lack of interest in this area, labour has moved away or because you have not invested time and money in training.
Taking on an apprentice can be a proactive and cost effective way of filling skills shortages as you can train your new employee in the area that you most need them. By channelling their enthusiasm and training in the way that your business needs, you will soon be able to plug that gap with someone who understands your company.
Identifying Skills Shortages
The first thing that you need to do is to understand what skills shortages your company is facing. If you can look ahead to see where they may soon come, this will be even better for your business. Think about if someone is due to retire or go on maternity leave and whether there is somebody suitable to fill their position.
Consider whether your industry is considered popular and if there are many people currently training who would be able to fill the skills gaps. Once you have taken a realistic, forward thinking look at where your business is going you will be able to identify your skills shortages and take steps to fill them.
Creating a Training Plan
Once you have identified your skills shortages you need to work out how you are going to train someone to fill them. Think about the practical skills development they will need and how you can give them this. Work with a learning provider who can advise you about apprentices and what they need.
Find out how you can work in conjunction with their study and complement both aspects of their learning. The more structured and though out your training plan is, the better apprentices you will attract and the more effective their skills development will be.
Finding Apprentices
To fill your skills shortages you need to find a willing and capable apprentice to train in your company. Liaise with your local colleges and jobcentre to advertise your vacancy and get the best coverage you can. Then think about how you are going to decide who the best apprentice for the job is. Do you need to test their practical skills? Do you want someone with certain personality traits? Are you more interested in their enthusiasm for the industry and company?
Encouraging Skills Development
Once you have found an apprentice you want to encourage their skills development so that they will eventually be able to fill the gap in your company. Have regular assessments to make sure that they are happy and working well.
Talk to your other employees about the apprentice's progress and encourage employees to mentor your apprentice. The more structured the training, the quicker their skills development will be and the sooner they will be able to fill your skills shortage.
Taking on an apprentice is a great way to fill skills shortages in your company. You are able to train them up from the start so that they know a lot about your business, the industry and what specifically is required.
Make sure you have a structured training programme in place that will encourage their skills development and work in with conjunction with their learning provider and your employees to help them progress.
You might also like...