Attracting Apprentices to Your Business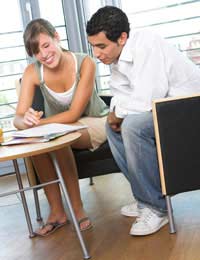 Offering an apprentice course can be a great way to bring new skills into your business. Apprentices are enthusiastic and willing to learn and you help to shape them as they learn.
To make sure that you find a good apprentice you need to attract candidates to you scheme. Not only should you advertise it in varied places, you also need to have something worthwhile to offer. Apprentices want to know there is a structured scheme in place, that they will be paid fairly and that other apprentices have enjoyed the placement.
Offer a Good Apprentice Scheme
For apprentice recruitment you will need to have an attractive scheme in place. Apprentices want lots of opportunities to train on the job, improve their skills and complement their study. Don't haphazardly put an apprentice course together but plan out a structured training scheme that will help your apprentice develop.
Make sure that they can clearly see what they will be doing, how this will help them and where the work is leading. Talk to education providers and see what you can do to successfully tie the practical side into what they are learning at college.
Pay Fairly
The minimum that an apprentice can earn is £80 a week but offering more than this will attract more candidates. Consider what other similar jobs in the industry pay and whether you can match them. Apprentices will realise that they will earn less as they are still training but make it clear that as they experience increases, you will be willing to talk about increasing their wages.
Apprentice Recruitment
Even if you have a great apprentice course in place, if you don't tell anyone about it them you won't attract any apprentices. Think about where candidates are likely to look and make sure that they see your scheme there. Talk to your local job centre about promoting it and visit local colleges to talk about the scheme.
Also, don't forget local newspapers and jobs boards. Try to think more widely as well. How about getting a feature on the company in the paper? Or offering career advice on the local radio? The more that potential apprentices hear about your company, the more credible they will think it is.
Track Record
Word of mouth is a powerful thing and if people know of other apprentices that have done well on your scheme then they will be more keen to do the same. Be willing to allow potential apprentices to talk to previous ones so they can get the inside scoop about what it is like – choose ones that are going to say nice things! Being nominated or winning awards either as a company or individual apprentices will also help boost your ratings.
Attracting apprentices is all about having a good scheme in place and making sure that they know about. Plan training that ties in well with their study and helps them to develop their skills. Offer a decent wage and make sure past apprentices are willing to tell candidates what to expect. Finally make sure you advertise the apprenticeship in jobcentres, colleges and papers so people know it is available.
You might also like...