Offering Employment When an Apprenticeship Ends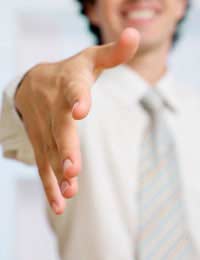 When your apprentice's scheme comes to an end you have two choices. Either you can let them go out into the big wide world and find employment elsewhere, or you can offer them a permanent job. This will obviously depend on how good your apprentice is and whether you feel they have been an asset to the company.
It is worth considering the time and energy you have put into them and whether you would have to train someone new. If you decide you want to keep them but there is no obvious job opening then you may have to consider creating a role for them.
Deciding Whether To Keep An Apprentice
When you take on an apprentice you have no obligation to keep them on once their apprenticeship ends. However it can make sense to do so. You will have a spent a lot of time and energy training them up and teaching them the ropes of the company.
As you have found them early on, they will have learnt things in a way that suits you company and it can be difficult to replicate this with a new employee. Obviously if they have been a poor apprentice then you will not want to offer them employment on but it is always worth considering.
Filling a Job With An Apprentice
If you decide to offer your apprentice permanent employment then there are a few issues you need to consider. Firstly you need to think about whether they are the best person to fill the role and if there are better candidates.
Also think about what other employees may think about your decision and if it could breed resentment. Finally, you want to make sure that your apprentice is clear about the different responsibilities that come with full time employment and what will be expected of them.
Creating An Employment Opportunity
If there isn't an employment opportunity available but you are keen to keep your apprentice then you may want to create a role for them. It seems wasteful to lose their skills and experience because there is no set employment for them. Consider how they could fit into your current structure and if there are any gaps that could do with plugging. Also, talk to your apprentice about what they want and how they see their role developing.
Employment Contract
If you decide to offer your apprentice permanent employment then you will need to draw up a new employment contract. Be clear about the differences between this and their apprenticeship, and what their role and responsibilities are.
When offering them a new job you will also have to consider raising their salary to something that is competitive with other jobs that they could go out and get.
Taking your apprentice into permanent employment can be a good move as it means you are not losing the skills and experience that you have given them. They have been trained in a way that suits your company and can be an asset. If there isn't a specific job available then you may want to think about creating one.
Consider what this impact this move will have on other employees and make sure your apprentice is clear about their new role and responsibilities.
You might also like...
Iam doing apprenticeship in HMT as trade apprentice fitter After ending apprenticeship you will help me for permanent job ?
Suri
- 7-Dec-20 @ 3:40 AM
Hi there please could you tell me if I have completed a level 3 apprenticeship ,.should my employer let me work as a level 3 HCA, and recieve the extra benefits and pay increase i have worked there for 15 years but was told some time ago that would only be the case if someone left as there was already 2 HCA workers which we don't work the same shifts anyway
Marie
- 21-Oct-20 @ 12:18 PM
How to get permanent job..I have completed my apprenticeship.. please tell me what I do??????
Hshsgsg
- 21-Sep-20 @ 10:03 AM
sir i m also complete my apprenticeship from mpseb in computer operator sector nd search a job so plzzz sir plzzz contact me in 8357898076 if any jobs are available.! thankyou sir
pavan
- 5-Aug-20 @ 7:48 AM
I am doing apprenticeship in Hindustan petroleum corporation limited as Graduate apprentice in mechanical engineering After ending apprenticeship you will help me for permanent job ?
Mukesh
- 15-Jun-20 @ 2:06 PM
Hi I am Gudla Swathi from Srikakulam. I am complete my apprentice at Oil Natural gas Corporation at kakinada. Please help me to give an any permanent job.
Swathi
- 6-Jun-20 @ 11:35 AM
Hi, My name is praveen kumar choudhary from Bihar I have done apprenticeship with iocl (2019-20) Terminal sewri mumbai so what do i I dont know please Sassesion me
Piku
- 12-May-20 @ 3:15 AM
Hi iam joining into HAL apprentice this year what is after completing apprentice period can i get intlo permanent job ?if any vacancies their i am eligible or not
Tarun
- 22-Feb-20 @ 12:29 PM
My son is coming to the end of his apprenticeship and they have said they aren't going to offer him a job at the end but take on someone else they can pay minimum wage to. What are his rights?
I am doing apprenticeship in Indian oil corporation limited as trade apprentice accountant After ending apprenticeship you will help me for permanent job ?
sid
- 23-Jun-18 @ 2:36 PM
Hi My son was six weeks into his apprenticeship when he was told he wasn't suitable he was not given Any warning but once I got involved the manager assured me they would do their best to place him in another venue within. Their organisation which was less busy . They said they would continue to pay him until they found him somewhere else but after only a week they are saying they cant justify paying him any more ! Does he have any rights?
Cat
- 22-Mar-17 @ 1:53 PM
If you have entered an apprenticeship but then get offered full time employment elsewhere after few months can you leave the apprenticeship without getting into trouble doing so.
jan
- 7-Oct-15 @ 10:33 AM
Hi I just wanted to know if the company has sent the apprentice to training since they started the apprenticeship, is it likely they will keep the apprentice for the job after the apprenticeship finishes or not? And also wanted to know as an apprentice does the apprentice have to ask the employer About a vacancy or will they be offered a job by the manager?
Saf
- 26-Mar-14 @ 6:56 PM